You are here

Predictions for 2016
Predictions for 2016
Submitted by Justin Hayek on December 29th, 2015
Another year has come and gone. Expectations that we had set for our personal lives and the markets for the year, may or may not have come to fruition. But this New Year is another opportunity to reassess our expectations and goals for the coming year.
I wanted to put my predictions for 2016 in digital ink. But before I look into my crystal ball and tell you what the future holds, I thought it would be interesting to get your input. Below is a four question multiple choice poll I have created. It takes no more than 20 seconds to answer.
Create your own user feedback survey
It am very interested to see how everyone responds. I have my own presumptions as to what the final results will look like but I'd rather not reveal what those are. Instead here are my predictions for 2016...
My Predictions for 2016
US stocks will be higher
Despite the rhetoric of an impending market collapse and the US economy being all smoke 'n mirrors, I foresee US equities (S&P 500) heading higher by end of 2016. The basis to my prediction is the following: the US economy is improving, jobs are being created, which leads to greater revenues and higher profits for companies producing goods and services. This translates into higher share prices for those publicly listed companies. This is a pretty simplistic view and there is much more to the market than this. However, company earnings are a fundamental driver to market valuations.
(some) Canadian stocks will be higher
This one is a toughie. My apprehension and reason for putting the word "some" in front is that I believe there will be great separation between the best performing and worst performing sectors within Canadian equities. I foresee the energy and materials sectors outperforming most sectors but their gains will be offset by losses in the industrial and consumer discretionary sectors. Net out the two and we're looking possibly at higher Canadian equities.
Canadian interest rates will be higher
We all know the Canadian economy is on life support and the Bank of Canada cannot afford to raise its interest rate, at this time. However, what the BoC cannot control is what the US Federal Reserve does to its rates. This point is important, and I've discussed it at length before in previous posts - that the US government bond market is the global benchmark for interest rates. And so if rates in the US bond market are rising, and they are, than global rates will creep up. With that being said, Canadian bond rates are heading higher.
US interest rates are in green, Canadian rates in white. Canadian rates have followed US rates 85% of the time the previous 25 years.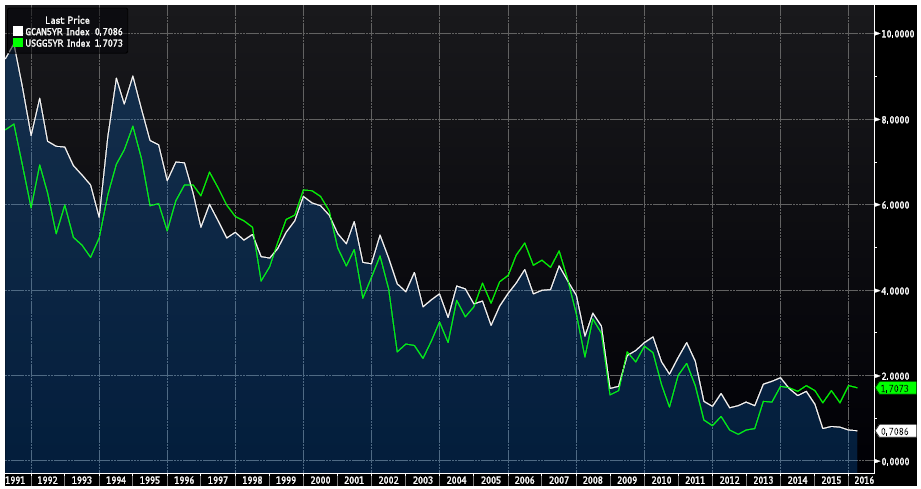 Source: Bloomberg
Commodity prices will be higher
A fundamental principal to economics is market prices are determined by supply and demand. Reduce the supply of a good and its price goes up. With such low commodity prices, in particular oil and copper, fewer producers are able to produce their commodity of choice profitably. This leads to supply being choked off. A reduction in supply leads to higher prices. This process will lead to higher commodity prices but it won't happen overnight.
What might have more of an immediate impact and is transitory in nature is the US dollar. As you know, all commodities are priced in USD. The recent decline in all commodity prices has been greatly influenced by the recent strength in the USD. As the USD becomes stronger relative to other currencies, commodities become more expensive in local currencies (whether that be the Canadian loonie, Japanese Yen, Euro). If a good becomes more expensive, you tend to use less of it. Just take a look at the chart below. This chart shows the performance of the USD, in white, vs a basket of commodities (Bloomberg Commodity Index) in green.
Clearly, there is a strong negative relationship between the USD and commodity prices.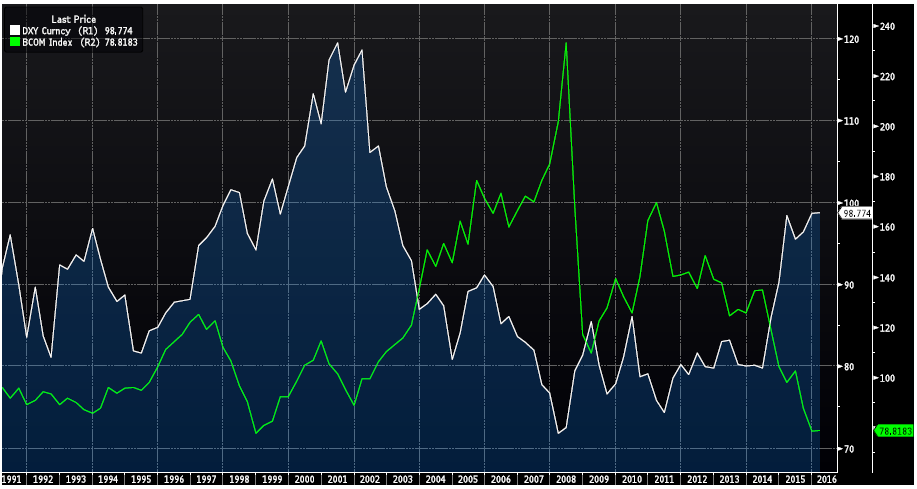 Source: Bloomberg
Looking forward to 2016. Happy New Year to all!