You are here

What Happened In The Market This Week?
What Happened In The Market This Week?
Submitted by Justin Hayek on December 11th, 2015
Lots to go over so let's get right into it.
A solid US jobs number was reported. Though this happened the week of November 30th - December 4th, the importance of this data cannot be over stated. The US government reported an increase in non-farm employment by 211,000 for the month of November. Anything north of 150,000, according to many, is a green light for the US Federal Reserve to raise its key interest rate for the first time in almost a decade. Which leads into other important developments this week...
The market is increasingly expecting an increase in US interest rates. Though there is a lot of rhetoric out there that rates will stay lower for longer, it is just that. Rhetoric. Truth of the matter is the market is estimating an 81% probability that the Fed's fund rate will be increased next week (on December 16th). The rate will move from the 0-0.25% range to a target rate of 0.5%. Why does this matter?...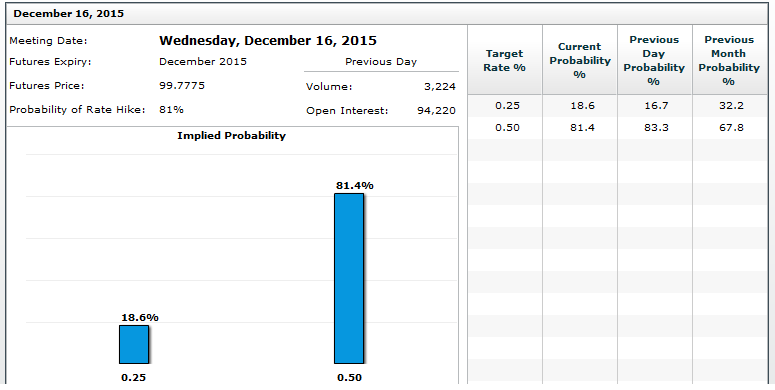 Image source: CME Group
Interest rates impact all financial assets; stocks, bonds, real estate, cash, etc. I won't get into the complexity of why this is too much, but what it boils down to is this; we as investors have a buffet of investments to choose from. And when cash, the safest asset class of all, starts paying its holder a higher rate of return, all other financial assets have to compete in order to become more attractive. This might be best thought of using an example.
Imagine you had a cash deposit in the bank earning 10% interest per annum risk free. If this was in fact the case, chances are you wouldn't put this money at risk unless you thought you could earn a significantly higher rate of return. So unless you had the potential to earn say a 20% return from investing in equities you would not invest. And so looking at where we stand today - with interest rates starting to creep up other financial assets are being re-priced today to compensate investors. Which leads us into the market action this week...
Why the sudden market volatility this week? Simple. See the first paragraph and re-read until you get this point. As mentioned in the previous paragraph, the recent market volatility is simply the market re-calibrating itself in preparation for a new market environment - a rising interest rate environment. Though the short term pain all investors are experiencing right now is unpleasant, it is short term. The market will get over this. Things will get back to normal. I cannot over state how significant next week's potential rate increase is because its also setting us up for future interest rate increases too. This will not be a one and done event. We can expect the US Fed, and at some point that Bank of Canada, to steadily increase its key interest rate. They will do it in such a manner so as to tame inflation but not impede economic growth.
Finally, what does this all mean for you and your investments? The following is of importance to you and your investments regarding this event:
Higher interest rate on cash deposits. Finally. Currently cash deposits are earning next to nothing. This will soon change. Though don't expect the 10% rate I asked you to imagine any time soon. Rates will climb steadily, first in the US then in Canada, over the course of time. Projections by US Fed officials is about 1% per year for the next three years.
Higher dividend yields. Earlier I mentioned that the interest rate has an impact on all financial assets, this includes the dividend rate on shares, of all kinds. Again this is because of the competition that exists between investments. Companies will have to compete for shareholder cash and part of this in in the form of higher dividends. Though its very challenging to find companies that pay high, sustainable dividends at present, in due time the dividend yield that investors receive will increase.
Below is a historical chart of the S&P 500's dividend yield vs the yield on 10 year US bonds. Though the two are very different types of investments (stocks vs bonds) what you can see from this a strong relationship between interest rates and dividend yields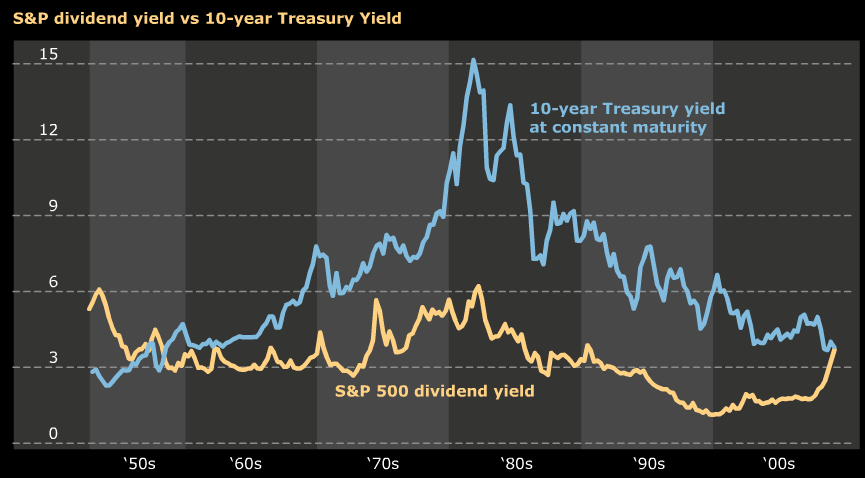 Source: Bloomberg
Improving US economy leading to higher US equity markets. The US Fed would only consider increasing its key interest rate if it determined that the US economy could handle it. As the US economy improves more people will find employment, leading to an increase in aggregate income, leading to greater spending within the economy. An increase in the demand for goods means more goods being produced means the companies producing such goods become more profitable and then the cycle reinforces itself. As owners of such companies, via stock, we can benefit too because the companies and their shares become more valuable. Look for US equities to continue outperforming our resource focused Canadian equities for the short term.
Here is historical chart comparing the Fed's fund rate vs US equity markets (S&P 500). As you can see, the US Fed increases its interest rate as the economy improves which typically leads to rising equity markets.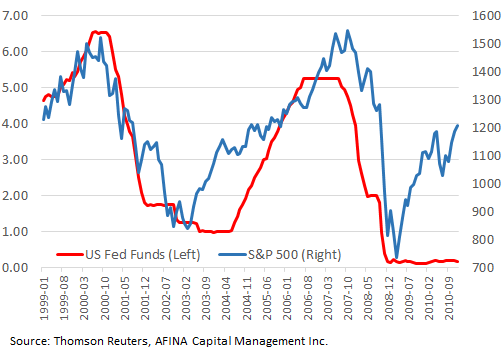 Less volatility in the equity markets. Watching the stock market these past two weeks was confusing at best. There was no clear sense of direction. As mentioned before, I believe much of this is the market preparing itself for a new rising rate environment. Once the idea of this gets fully set in, sometime shortly after December 16th, the price fluctuations we've experienced lately will dissipate.
Consider investing in assets that benefit from higher interest rates. I've written about this at length before when we looked at preferred shares. Preferred shares are an excellent way to protect your portfolio from rising interest rates simply because as interest rates move higher, the value of preferred shares increase.
Now that we have a better sense of what to expect if the Fed increases rates Wednesday this week (December 16th) all we can do is wait, see and (hopefully) profit.