You are here

How Can You Profit From Rising Interest Rates?
How Can You Profit From Rising Interest Rates?
Submitted by Justin Hayek on September 17th, 2015
It's September 17th and the US Federal Reserve has decided to keep the federal funds rate unchanged. The fed's fund rate is the benchmark for interest rate levels across the US. Though this rate was not raised today, the Fed committee anticipates the rate will be raised in the near future, very possibly this December. If there is any doubt that interest rates are heading higher, those who control interest rates in the US project the following path for rates: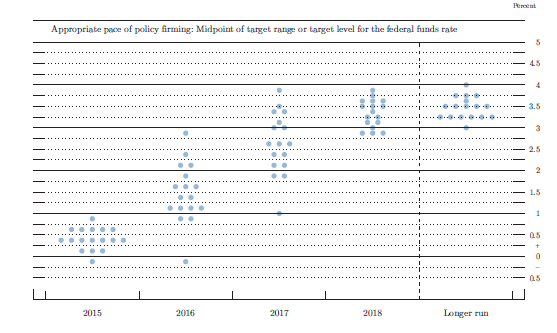 Source: usfederalreserve.org
Why should you care? Well the US, like it or not, is a global benchmark for interest rate levels. If US interest rates go up, generally so do interest rates around the world. In fact, even in Canada, our interest rates generally follow those of our neighbours' to the south. Below is a chart of the Bank of Canada overnight lending rate (white) versus the US Federal Funds Rate (yellow). Though the two may diverge over the short term, the relationship is very strong over the long term.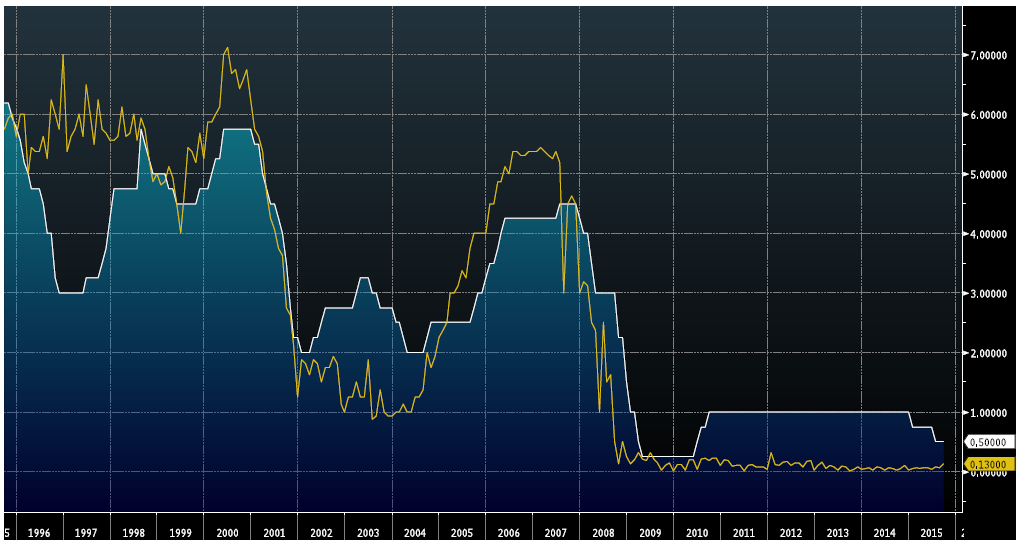 Source: Bloomberg
Knowing this, how can you profit from rising interest rates? Easy...allocate part of your portfolio to rate-reset and floating-rate preferred shares. But first...
What is a preferred share ("prefs")?
Preferred shares are a class of shares that have features similar to those of common shares and bonds. Like bonds, prefs pay a dividend rate that is determined at issuance and carry no voting rights. Like common shares, prefs represent an ownership interest and generally do not have a maturity date.
What are rate-reset and floating-rate prefs?
Rate-reset prefs pay a fixed dividend rate until a set future date, its reset date. On its reset date, the prefs' rates reset to a rate which is typically a pre-determined spread above a Government of Canada bond with a similar term to maturity. As an example, if a rate-reset pref was issued with an initial fixed rate of 4% and on its reset date, 5 years from now, reset to the Government of Canada 5 year bond yield + 2%. Five years from the issuance date, the pref will pay a dividend rate that is the GoC 5 year yield (say 5%) plus the 2% premium, for a new dividend yield of 7%.
Floating-rate prefs pay a dividend that floats in relation to a reference rate, the 3 month Government of Canada T-bill, plus a pre-determined spread. As an example, a floating-rate pref may be issued with a pre-determined spread of +2% above the reference rate of the 3 month GoC T-bill. If today the 3 month T-bill is yielding 1%, the floating-rate pref will have a dividend yield of 3%. But if in the future the 3 month T-bill is yielding 2%, the floating-rate pref will then have a dividend yield of 4%.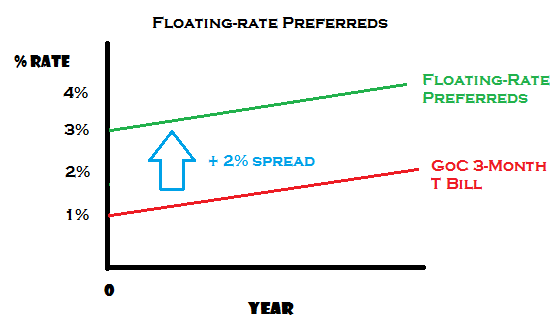 So why do you want to own rate-reset or floating-rate preferreds in a raising interest rate environment?
Both of these types of prefs, and their holders, benefit from raising interest rates. That is because both forms of prefs use a reference rate as their base dividend yield and then add a premium. If the reference rate is expected to rise in the future, and it looks like it will, than as a holder you can anticipate a higher dividend yield to follow.
How can you acquire these type of prefs?
There are many rate-reset and floating-rate prefs that trade in the market. However, the easiest and most liquid method to get exposure are exchange traded funds (ETFs) that cover this subset of asset class. If you are interested to learn which ETFs these are or if this is right for you, contact me at 604-718-7576 to discuss further.