You are here

In Pursuit of the Next High-Grade Silver Discovery
Testimonials Home Page
Testimonials
"Justin has proven his worth by being more than an investment advisor. He tries to bring value to every interaction and is a name to watch in this industry going forward." - Fabiana Lara, creator of The Next Big Rush
"Justin Hayek has been my investment advisor for over 7 years. I find his market knowledge invaluable. He has helped my portfolio grow, exceeding my expectations. I will continue to take advantage of his expertise and would highly recommend him to anyone looking for a fantastic advisor!" - Chase Shymkiw, Maple Ridge, BC
In Pursuit of the Next High-Grade Silver Discovery
Submitted by Justin Hayek on October 9th, 2019
Over the last six years, the mining sector has had glimmers of hope. There have been too few successes to cheer about, although there have been a couple darlings in the space. One in particular that stands out is SilverCrest Metals (TSX:SIL).
SilverCrest Metals' (TSX: SIL) 4 year Stock Performance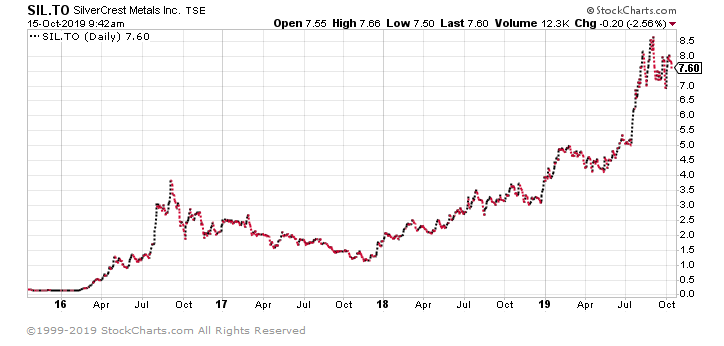 SilverCrest's stock has been a shining star in an otherwise dim universe. The company's flagship asset is the Las Chispas Silver-Gold project in Sonora, Mexico. What I believe sets Las Chispas apart from its peers and ultimately has delivered a lot of value to its shareholders is the following:
Las Chipas was never drill tested despite being a past-producing silver-gold mine, therefore coming to the market as a brand new 'discovery' and the market reacting as such
Well-endowed mineralized system; hosting 36 known vein structures generating significant upside potential post-discovery
Potential to host economic, high grade silver-gold deposit as outlined in its PEA
These 'value add' points checked a lot of boxes for the investing community, which is what led to SilverCrest's incredible success. I believe the market will continue to reward silver/gold explorers and developers that meet the above criteria.
One junior miner that meets these criteria is Vizsla Resources Corp. (TSXV:VZLA), a mineral exploration company focused on a highly prospective silver-gold property in Mexico, the world's top silver-producing country (corporate website: https://vizslaresources.com).
Vizsla recently acquired an option over a high-grade silver and gold land package in Panuco, Sinaloa, Mexico's prolific precious metals district. Panuco has been producing silver and gold from high-grade veins for more than 450 years and boasts over 75 kilometres of cumulative vein strike length. The region's first silver production took place back in the 1500's and has been producing intermittently ever since, with steady production taking place over the last several decades[1].
"Panuco is one of the best opportunities I've seen in my career. We have an option over one of the largest, most important historic mining districts in Mexico – consolidated for the first time ever in its history," - Vizsla Resources Chairman Craig Parry.[2]
Upon exercise of the option agreement Vizsla will own two producing silver-gold mines, a mill, over 35 km of known underground workings, multiple tailings facilities, a significant road network, power and associated permits. [2]
Up until now, this major high-grade silver-gold vien system, consisting of 20 known viens with over 75 km of cumulative strike length, has been largely unexplored outside of a small 2018 drill campaign that revealed an intercept containing 2,235 g/t silver and 9.5 g/t gold over a 4.23 metres (Hole SCC-07-09 Capstone). [1]
Panuco District

source: https://vizslaresources.com/panuco
This is also the very first time Panuco will be explored as a consolidated region, creating a project that totals 10,542 hectares and is comparable in size and geology to SilverCrest's Las Chispas project as well as First Majestic's San Dimas mine.[1] Vizsla Resources hit the ground running at Panuco, beginning systematic exploration immediately following the announcement. The company expects to be drilling within three months and to complete a maiden resource in 2020.
If this company interests you, you'll definitely want to keep an eye out for constant news flow in the months to come regarding its progress at this prolific silver-gold project. (Vizsla's corporate presentation here)
As with any mining exploration company, there is a high degree of risk involved. Please consult with your investment advisor before investing to ensure suitability and risk tolerances have been considered before you invest.
References
1. Vizsla Resources corporate website https://vizslaresources.com/panuco
2. Vizsla Resources news release from September 17, 2019