You are here

Are You Invested In GICs, Earning Record Low Rates?
Testimonials Home Page
Testimonials
"Justin has proven his worth by being more than an investment advisor. He tries to bring value to every interaction and is a name to watch in this industry going forward." - Fabiana Lara, creator of The Next Big Rush
"Justin Hayek has been my investment advisor for over 7 years. I find his market knowledge invaluable. He has helped my portfolio grow, exceeding my expectations. I will continue to take advantage of his expertise and would highly recommend him to anyone looking for a fantastic advisor!" - Chase Shymkiw, Maple Ridge, BC
Are You Invested In GICs, Earning Record Low Rates?
Submitted by Justin Hayek on August 27th, 2019
Interest rates around the world are trending towards or are now at record lows. This applies to GICs (guaranteed investment certificate) too. Just to give you an example of how much rates have declined; in the 1980's a 5 year GIC paid as much as 15% per year at the time, today 2% is the norm.
10 Year Government of Canada Bond (% Yield)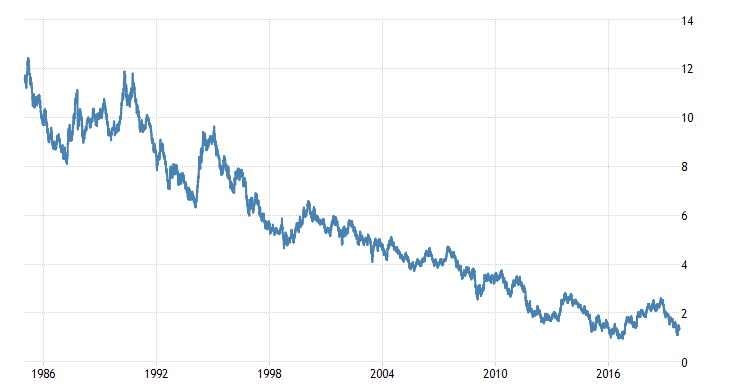 source: https://tradingeconomics.com/canada/government-bond-yield
What does this mean for savers and those looking to generate some income from their investments? Well, it's going to take a lot more money to earn the same amount of income you need from your investments or you will need to cut back on a lifestyle you were looking to live.
There is a solution however.
Our internal portfolio management team here at PI Financial can help you generate potentially superior dividend yields compared to a current 5 year GIC. They manage a portfolio geared towards generating higher dividend income; the PI High Yield Dividend Growth Model Portfolio.
The PI High Yield Dividend Growth Model Portfolio is a focused, large capitalization Canadian equity income and moderate growth portfolio with the objective to provide a high dividend yield, a lower level of volatility, consistently growing dividend equity income and moderate long-term capital appreciation. Because this portfolio invests in Canadian dividend-bearing equities, there is tax break. The dividend tax credit effectively reduces your taxes on dividend income compared to interest income, putting you further ahead.
Being that the PI High Yield Dividend Growth Model Portfolio is comprised of equities, it is subject to market risk. Therefore, this model portfolio is best suited for investors with medium to long term time horizons and only suitable if you can tolerate some risk. More information on the PI High Yield Dividend Growth Model Portfolio can be found here.
If you are invested in low rate GICs and want to earn more income from your investments in a more tax-efficient way contact me by email: jhayek@pifinancialcorp.com
Happy to meet in person or chat over the phone (604-718-7576) about how our internal portfolio management team can help you towards earning more income from your investments.