You are here

Five Precious Metals Developers Ripe For Takeover
Testimonials Home Page
Testimonials
"Justin has proven his worth by being more than an investment advisor. He tries to bring value to every interaction and is a name to watch in this industry going forward." - Fabiana Lara, creator of The Next Big Rush
"Justin Hayek has been my investment advisor for over 7 years. I find his market knowledge invaluable. He has helped my portfolio grow, exceeding my expectations. I will continue to take advantage of his expertise and would highly recommend him to anyone looking for a fantastic advisor!" - Chase Shymkiw, Maple Ridge, BC
Five Precious Metals Developers Ripe For Takeover
Submitted by Justin Hayek on September 11th, 2019
In this issue of the Mining Sector Update, PI Financial's mining analysts answer the questions:
Which five precious metals developers, do they believe, are takeover candidates?
What are the attributes potential acquirers are looking at and evaluating?
How much of a premium will an acquirer need to pay over market price?
Five companies are highlighted and dissected in this issue. All five companies offer primary exposure to gold with market caps ranging from C$ 131 million to C$ 221 million.
If you're interested in finding out, read your copy of the report here.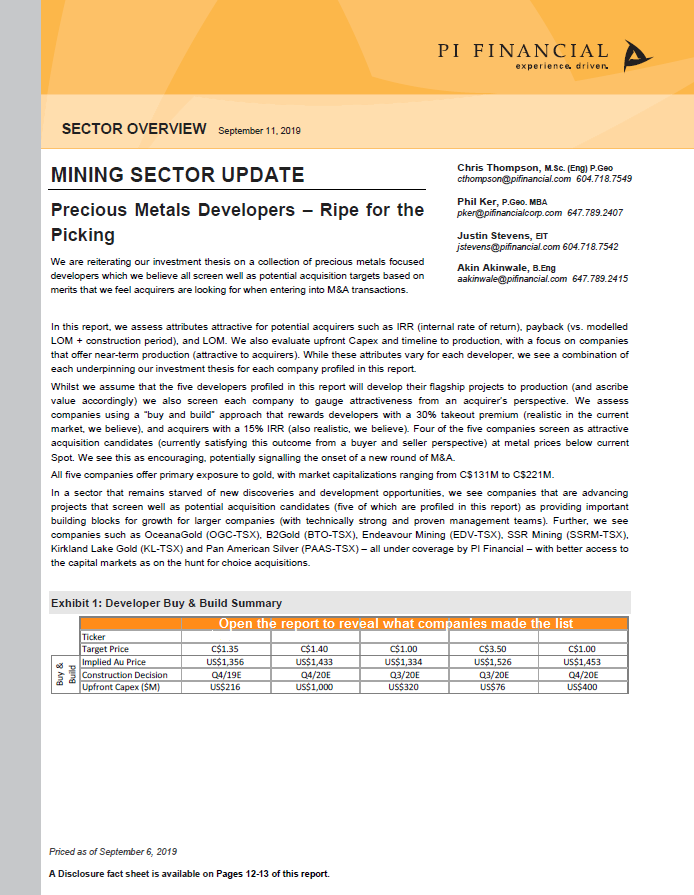 If you want to discuss and learn about which precious metals companies Justin and clients are investing in right now, contact him by email jhayek@pifinancialcorp.com