You are here

Four Ways To Invest In This New Gold Bull Market
Testimonials Home Page
Testimonials
"Justin has proven his worth by being more than an investment advisor. He tries to bring value to every interaction and is a name to watch in this industry going forward." - Fabiana Lara, creator of The Next Big Rush
"Justin Hayek has been my investment advisor for over 7 years. I find his market knowledge invaluable. He has helped my portfolio grow, exceeding my expectations. I will continue to take advantage of his expertise and would highly recommend him to anyone looking for a fantastic advisor!" - Chase Shymkiw, Maple Ridge, BC
Four Ways To Invest In This New Gold Bull Market
Submitted by Justin Hayek on August 28th, 2019
With what appears to be a new bull market for gold and other precious metals, I am having more conversations with clients and other investors as to how they should be invested in the sector.
Here are 4 ways you can invest in this new gold bull market:
1. Physical Gold
One option to consider is getting direct exposure to gold itself by buying it in its physical form. You could do so through a reputable dealer (like Kitco or Vancouver Bullion) or buying a listed security in the market that is backed by physical storage of gold (such as Spdr Gold Trust).
Buying physical gold will give you pure, direct exposure to gold minus transaction costs. Unfortunately, your potential return than becomes less than that of the commodity due to the costs of trading and holding.
This option is safest of the four as the downside risk is least but so too is your upside potential
2. Gold Producers
Another option is to buy shares of the gold producers be it major, mid-tier or small scale. One characteristic of this set is they generally offer some leverage to the price of gold, that is they will move a greater percentage than gold itself be it to the up or downside, as is historically the relationship between gold spot vs a gold miners index (GDX-US) as an example.
% Return of SPDR Gold Trust (green line) vs. Vaneck Vectors Gold Miners ETF (white line)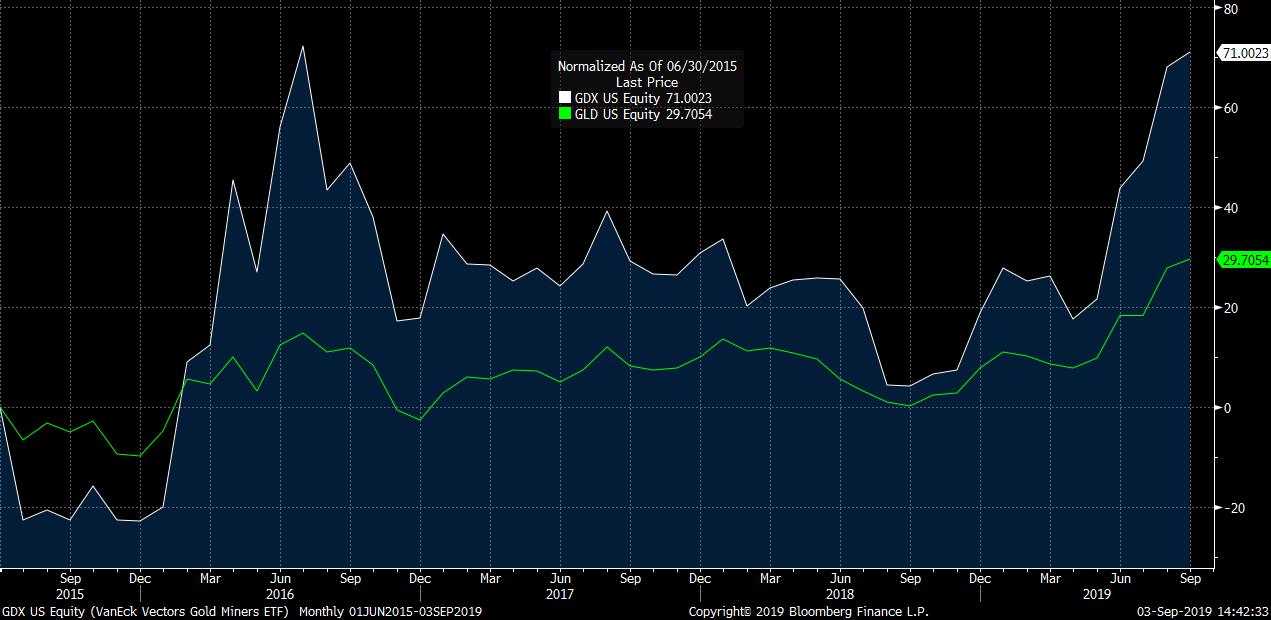 The advantage then to the gold producers, should gold move higher in price, is you potentially generate greater returns. However, you do run the risk of some gold producers who may not get the full benefit of the move in gold if they have hedged out production into the future. If so, they will be laggards against their peers. Be aware of the company's hedged production (if any) and strength of balance sheet.
3. Developers/Advanced Gold Projects
Another subset of companies are those with gold projects moving towards production or have an existing resource. This set of companies is certainly a more risky investment than physical gold or the producers. The investment universe to choose from can be overwhelming; high grade vs low grade resource, potentially economic vs uneconomic, financeable or not. etc.
As such the profile and characteristics of these companies varies widely compared to producers which means as an investor there are more choices as to how you can invest within this group.
Generally speaking, this subset of companies get valued a bit differently than a producer. Rather than focus on cash flow and production costs, the investment community will focus on an asset's NAV or $ / oz in-situ.
The appeal to investing in this category is the increased leverage on the price of gold they offer. This of course means more risk as these stocks will decline more in price than the price of gold, as has historically been the case. Take a look at the chart on the price of gold vs the junior gold miners index (GDXJ-US).
In a bull market for gold...
% Return of SPDR Gold Trust (green line) vs. Vaneck Vectors Junior Gold Miners ETF (purple line)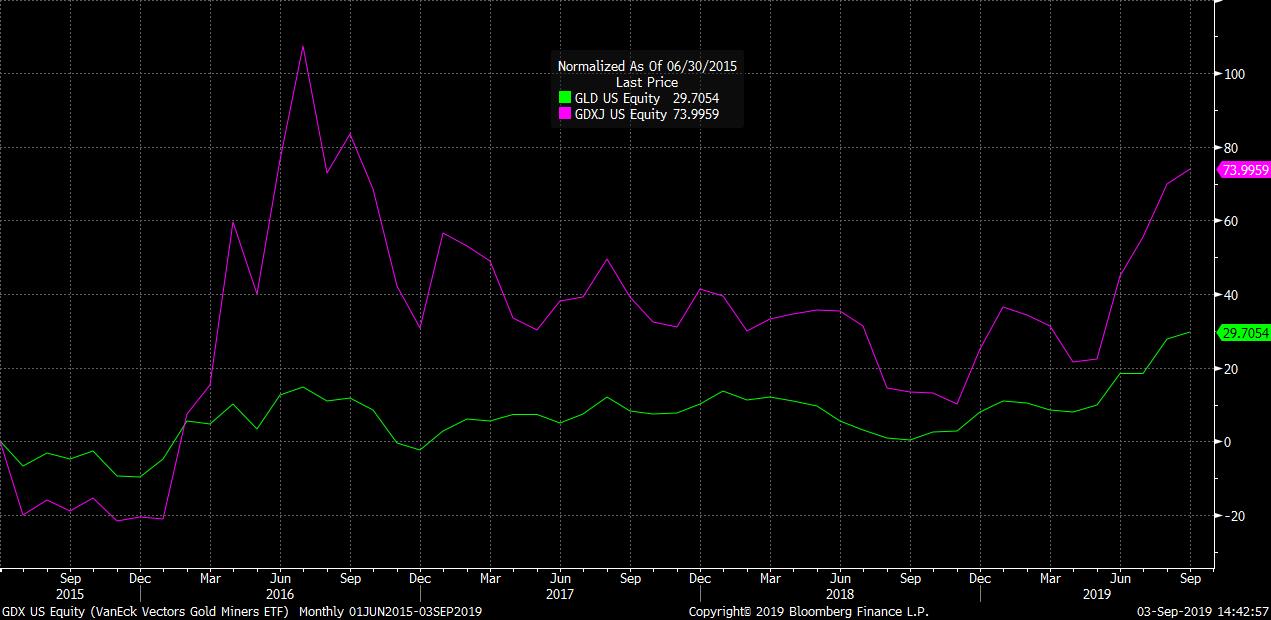 In a bear market for gold...ouch.
% Return of SPDR Gold Trust (green line) vs. Vaneck Vectors Junior Gold Miners ETF (purple line)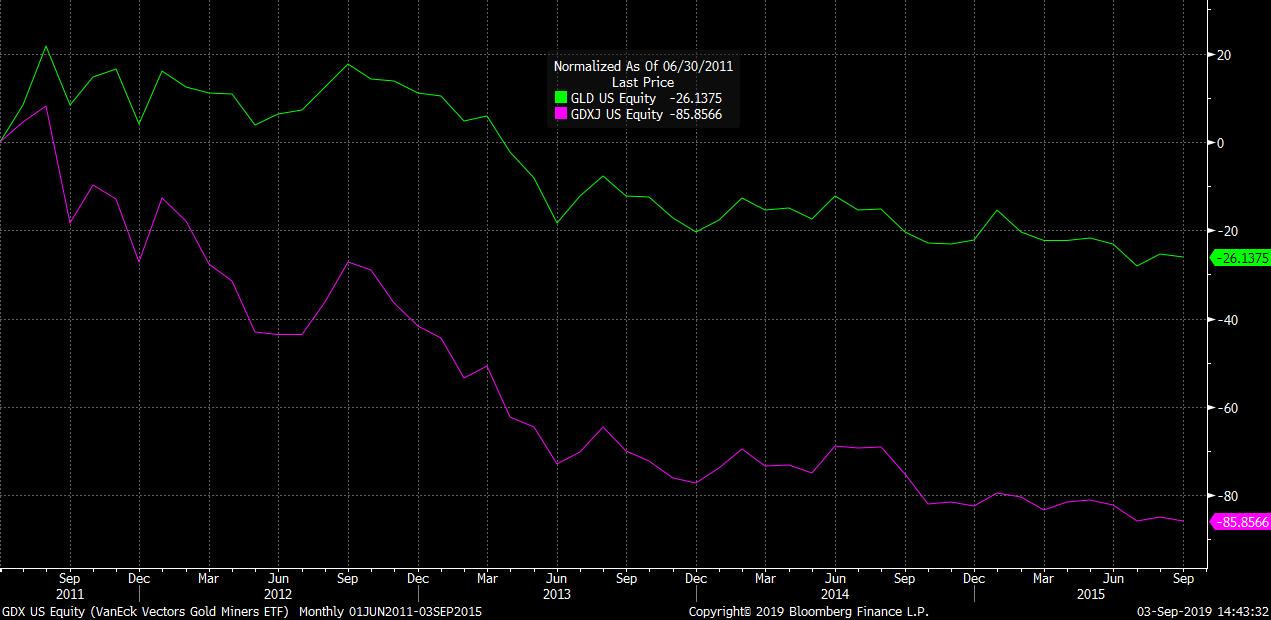 Examples of companies that fit this profile are Discovery Metals Corp. (DSV.V) and Chesapeake Gold Corp. (CKG.V)
4. Gold Exploration Co's
The riskiest of the four, and not for the conservative investor, are exploration companies in pursuit of a major discovery. This set of companies likely has little to no defined resource, has a project with perhaps some historic work done and may or may not be in a jurisdiction known for mineral deposits.
As this set of companies is the riskiest, there are even more factors to consider since more can go wrong; does the company have adequate financing? Is the stock liquid? Is management and the technical team's interpretation of the project correct?
This companies live and die by the drill bit, so too do their investors.
The appeal to this group of companies of course is the hope for a major discovery followed by massive value creation over night...Case in point, Great Bear Resources (GBR.V). Outperforming the price of physical gold (GLD-US) by leaps and bounds.
% Return of SPDR Gold Trust (green line) vs. Great Bear Resources (orange line)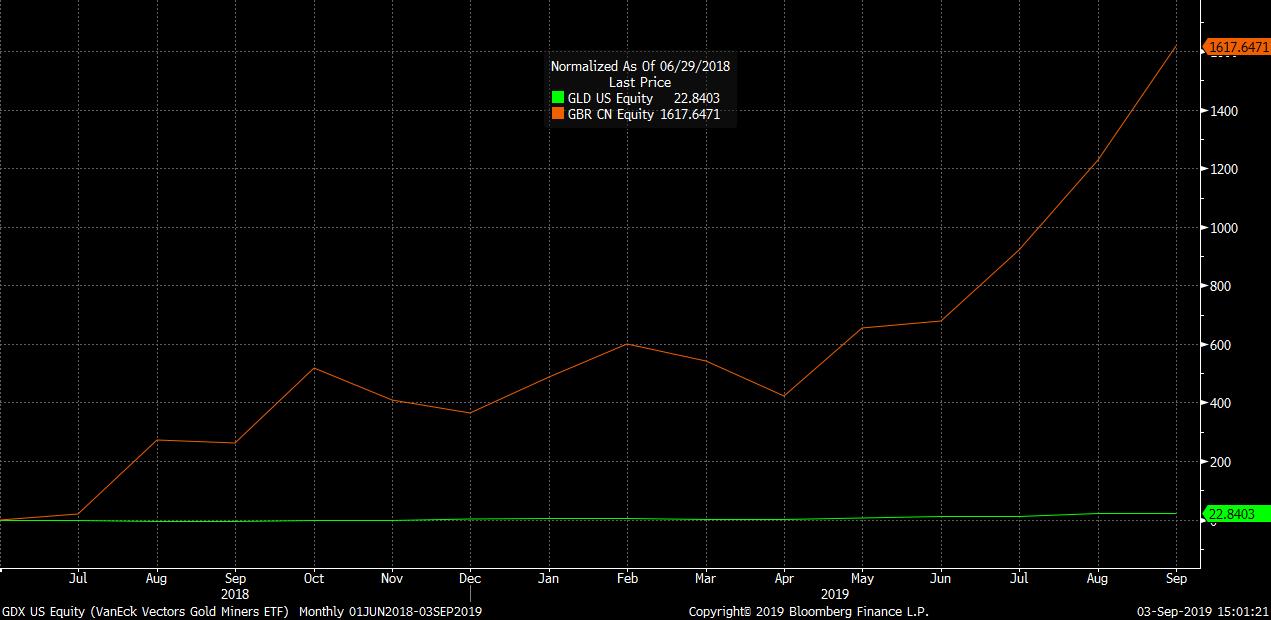 Unfortunately the odds of a major discovery are stacked against the exploration companies and its shareholders. Not to say that you can't make money as an investor, but you need to understand the risks and potential upside of the investment opportunity. There are too many companies to list in this category whom haven't delivered on their exporation programs and to pick on one wouldn't be fair, however quick search reveals a number of exploration companies being down 90%+ in the last year!!
There are a number of ways to invest in this emerging gold bull market. How you do so is dependent upon your tolerance towards risk. Hopefully by understanding the value proposition each category offers, its appeal and risks you can make better investment decisions and reap the benefits.
The companies mentioned in this article are not deemed to be investment recommendations but rather used for example purposes. Please consult your investment advisor or Justin Hayek for suitability of investment.
If you want to learn more or discuss how I can potentially help you through your investment decisions in the precious metals sector contact me at jhayek@pifinancialcorp.com