You are here

The Top Performing Mining Stocks in the Previous Bull Market: Will History Repeat Itself?
Testimonials Home Page
Testimonials
"Justin has proven his worth by being more than an investment advisor. He tries to bring value to every interaction and is a name to watch in this industry going forward." - Fabiana Lara, creator of The Next Big Rush
"Justin Hayek has been my investment advisor for over 7 years. I find his market knowledge invaluable. He has helped my portfolio grow, exceeding my expectations. I will continue to take advantage of his expertise and would highly recommend him to anyone looking for a fantastic advisor!" - Chase Shymkiw, Maple Ridge, BC
The Top Performing Mining Stocks in the Previous Bull Market: Will History Repeat Itself?
Submitted by Justin Hayek on January 3rd, 2020
I believe we are in the early stages of a significant bull market for precious metals, namely gold & silver, and the precious metals equities. The previous bull market for gold and silver (and the equities) was roughly from September 2008 - September 2011. Since then there have been a couple of false starts for the sector however this recent rally does feel sustainable.
If this is in fact a new bull market, what can we learn from the previous bull market to possibly improve our investment performance in this market? What part of the life cycle of a company should you be invested in - the junior explorers, the developers or producers? Should you be invested primarily in silver or gold companies? What types of projects generate the greatest potential returns - low, medium or high grade? Is there a country/region of preference?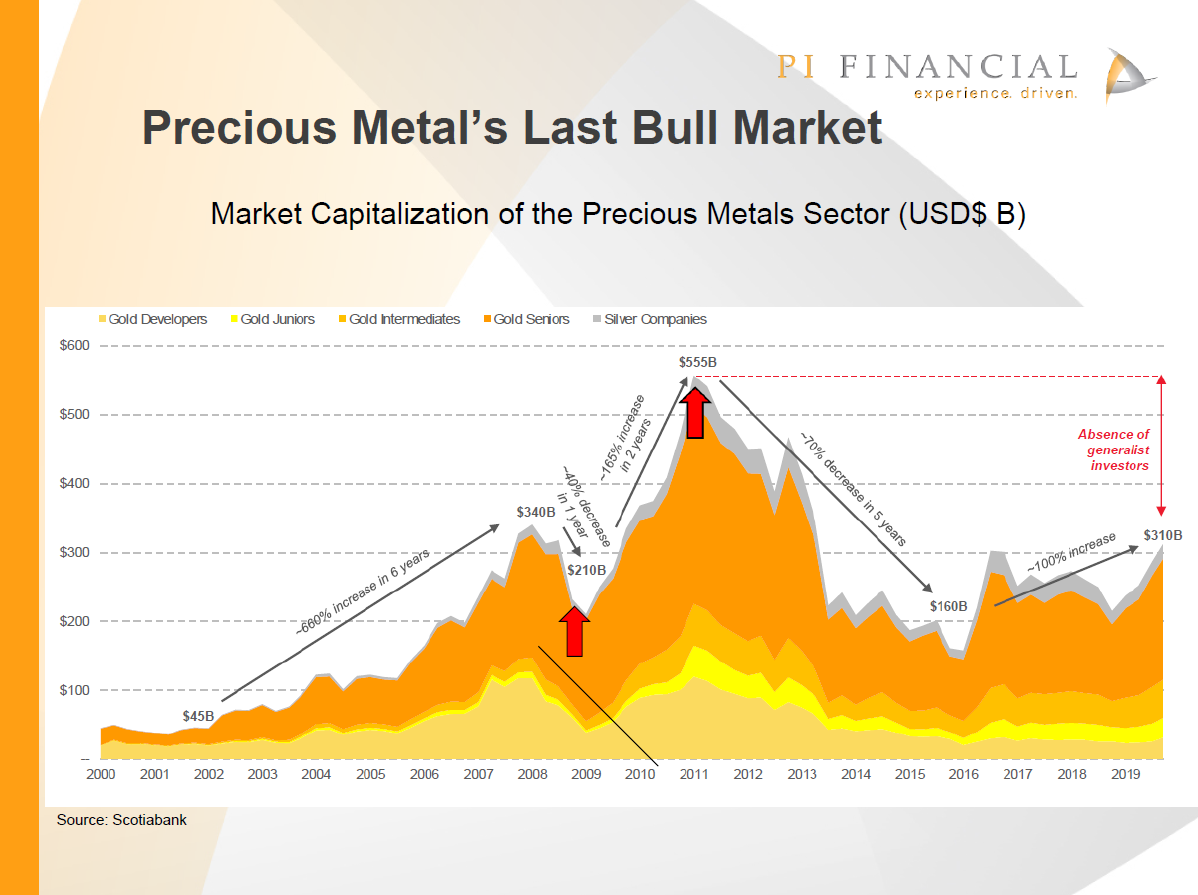 At the Silver & Gold Summit, held in San Francisco in October 2019, I attempted to answer the above questions. Conducting research in advance of my talk and going through the data with the intent on learning from history to improve investment returns. Some of what I discovered through researching the data was common knowledge, other conclusions were much to my surprise.
To view a video of my presentation and the discussion panel to follow please click on the below thumbnail or here.
If you are interested in discussing investing in the precious metals sector contact me by email (jhayek@pifinancialcorp.com) or call me at 604-718-7576